WP1 - Project management, synchronisation and sustainability is the coordinating Work Package of FAIR-IMPACT, which aims to ensure good project governance, liaison with the European Commission, as well as leadership of synchronisation with initiatives external to the project.
WP1 is also responsible for the coordination of the project management and governance bodies of the project:  the General Assembly, the Project Coordination Office, the Executive Committee, and the High Level Advisory Committee thus ensuring continuous assessment of the project's performance, quality assurance, and risk management.
Two coordination mechanisms, the Technical Bridging Team and the Synchronisation Force, operate primarily within WP1 and facilitate strategic coordination and continuous engagement with the EOSC Association and other stakeholders in the EOSC ecosystem (e.g. closely related initiatives such as FAIRCore4EOSC, EOSC Future, EOSC Focus), to ensure and boost uptake of project outcomes by the EOSC Partnership and other stakeholders, including RIs on the ESFRI roadmap and EOSC-related projects.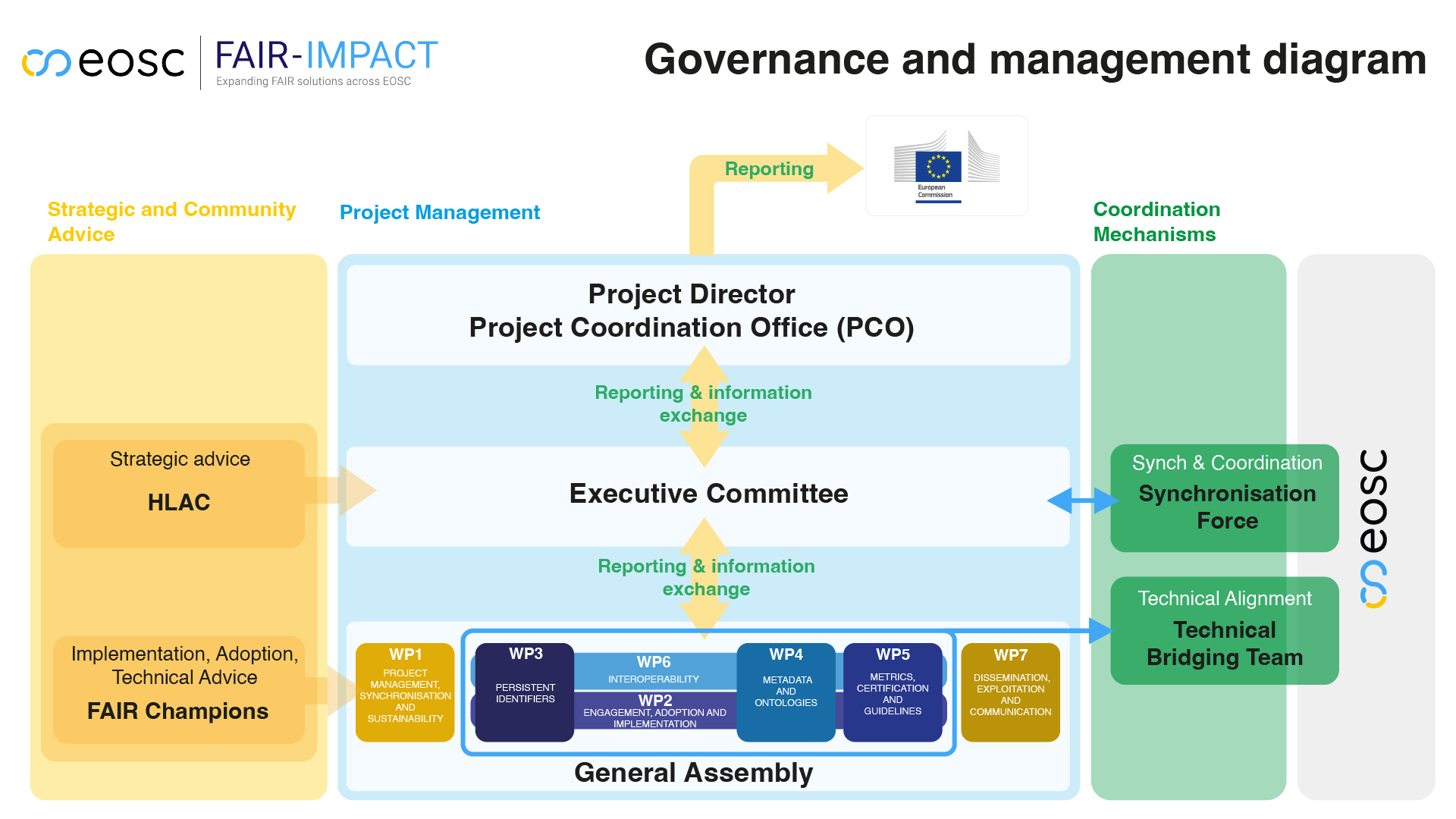 WP1 ensures that all sustainability measures within the project are exchanged, harmonised, and monitored.
Key tasks
Project coordination and internal communication (T1.1), managing the day-to-day activities of the project, including progress and financial administration and reporting;
Quality assurance and risk management (T1.2), continuous monitoring of project performance and coordination of the FAIR-IMPACT management and governance bodies;
Synchronisation with EOSC Partnership and relevant initiatives (T1.3), strategic coordination with EOSC Partnership and other stakeholders in the EOSC and beyond;
Sustainability of project outcomes (T1.4), exchanging, harmonising, and monitoring sustainability measures throughout the project, thus ensuring and maximising the uptake of the project outcomes.
Key expected outcomes
WP1 delivers the project Handbook (D1.1), the Data Management Plan (D1.2), and the Sustainability plan (D1.4), expected at the end of the project. Additionally, three Synchronisation Force workshops will be organised to assess work around the FAIR-IMPACT focus areas, resulting in reports for each workshop that form the basis of a white paper (D1.3) providing recommendations for alignment and synchronisation around FAIR practices.
Related deliverables and milestones
Partners involved
All partners involved in the FAIR-IMPACT project will contribute to this WP, led by DANS.