Synchronisation Force 2nd Workshop - November 2023
Welcome to the second edition of the Synchronisation Force Workshop series!
Building on the successful Synchronisation Force workshop 2022, the workshop aims to discuss common challenges and priorities related to turning the FAIR principles into practice. The workshop takes place as a series of seven virtual sessions between 2 November 2023 and 8 February 2024, with the five core sessions between 27 November and 7 December 2023.
Invited to this workshop are selected, key FAIR representatives of projects and initiatives in the EOSC framework.
Virtual workshop series from 2nd of November 2023 - 8th of February 2024
The workshop will be held as a series of online sessions, starting on 2 November with an orientation session. Five online collaborative sessions between 27 November and 7 December 2023 focus around strategic FAIR-related recommendations, how they are contributing to the EOSC and FAIR vision in Europe as well as the current state of implementation, according to the following schedule:
Thursday, November 2, 10.30-12.00 CET: Plenary introduction
Topic Session 1 Monday, November 27, 13.00-14.30 CET: Metrics and assessing FAIRness
Topic Session 2 Tuesday, November 28, 10.30-12.00 CET: Metadata, semantics and interoperability
Topic Session 3 Thursday, November 30, 10.30-12.00 CET: Persistent identifiers
Topic Session 4 Tuesday, December 5, 14.00-15.30 CET: Trustworthy and FAIR-enabling repositories
Topic Session 5 Thursday, December 7, 15.00-16.30 CET: Legal & organisational interoperability
Thursday, February 8, 10.30-12.00 CET: Plenary discussion session
The programme is still being finalised, you can browse the session details below - stay tuned!
Interested in joining? Contact us!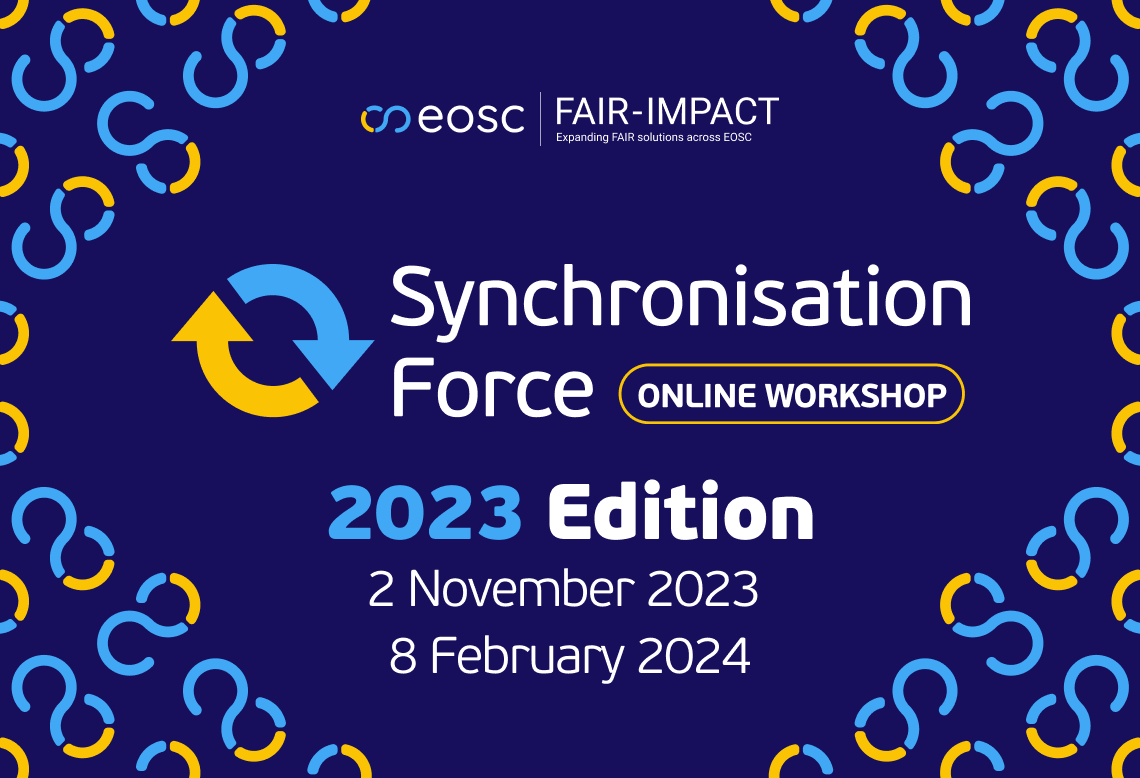 Synchronisation Force events