Webinar: FAIR-IMPACT Open Call for Support
How can I practically apply the FAIR Principles in my work? How do I know what is the right FAIR-enabling tool for me?
To help answer these questions, FAIR-IMPACT will be launching the first of three open calls for financial support in April 2023. In this first open call, the project will be encouraging applications for either of two defined support actions, which have been designed to help participants learn how to use specific tools, methods, and approaches to start (or continue) their journey to becoming more FAIR-enabling.
For more information on the open call, including FAQs and an Expression of Interest form, please check out our dedicated webpage.
On March 27 at 13:00 GMT/14:00 CEST/ 12:00 UTC, FAIR-IMPACT will be hosting a webinar to introduce potential applicants and other interested parties to the open call and to provide details about the two support actions on offer.
The session will outline who the support actions are aimed at, how it will benefit them, what will be expected of participants, the skills and expertise necessary to participate, and how to apply. There will be two short presentations from the support action providers and attendees will have the opportunity to ask questions about any aspects of the open call. The session agenda is below. If you cannot make the webinar at this time a recording will be made available after the session.
Registration for this webinar is free and open to all.
Secure your place! Login or sign up to the FAIR-IMPACT website and complete the registration form below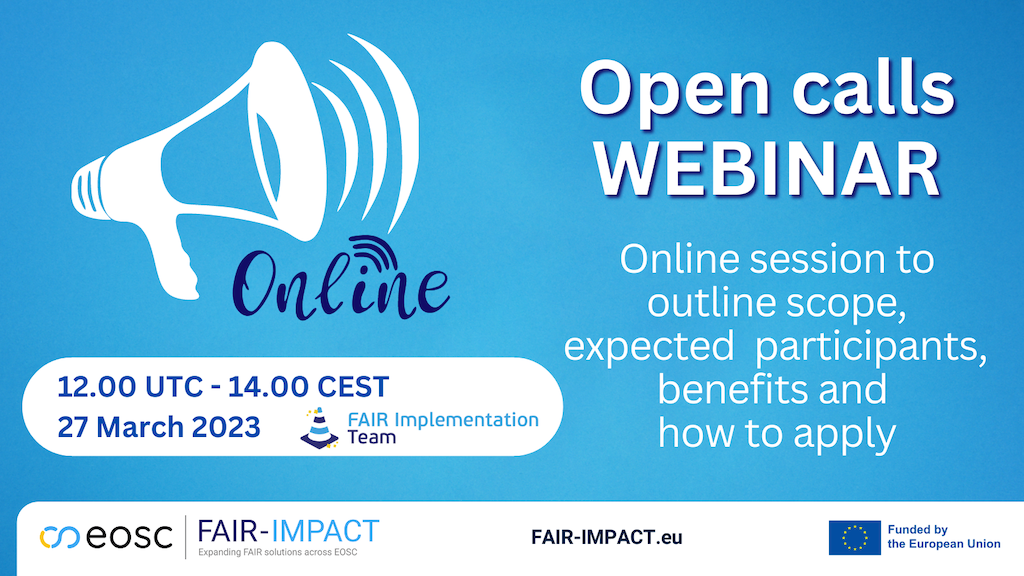 ---
Webinar agenda
| | Presenter |
| --- | --- |
| Weclome and introduction | Ryan O'Connor |
| Overview of support offer 1: FAIRness assessment challenge for datasets and semantic artefacts | Clement Jonquet / Sophie Aubin |
| Overview of support offer 2: Enabling FAIR Signposting and RO-Crate for content/metadata discovery and consumption | Stian Soiland-Reyes / Herbert Van de Sompel |
| Application process walkthrough | Sara Pittonet |
| Q&A | Ryan O'Connor (moderator) |