FAIR-IMPACT Open Call for Support coming soon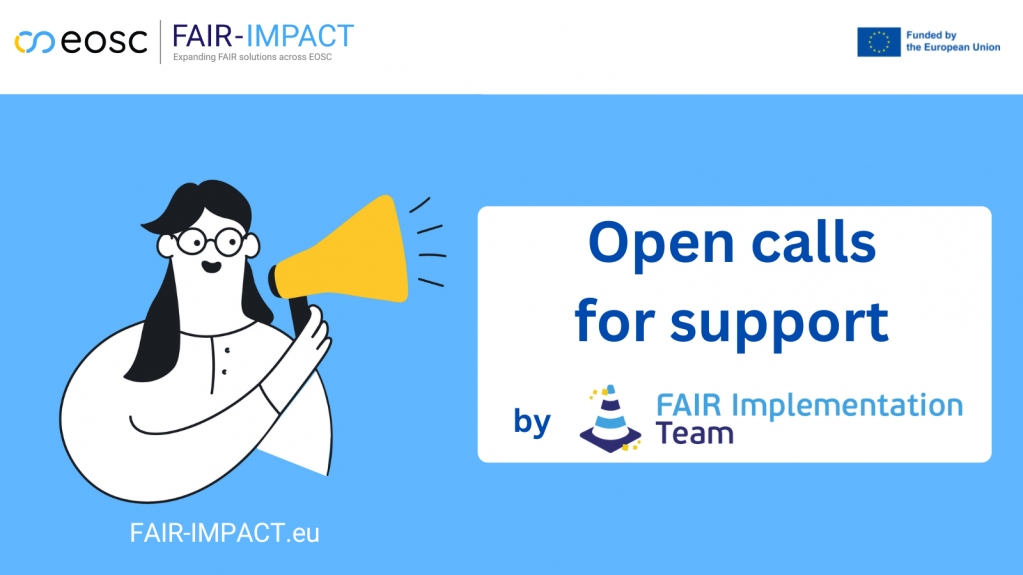 The remit of the FAIR-IMPACT project is to expand the use of FAIR-enabling solutions across the European Open Science Cloud (EOSC) and beyond. It has its roots in a previous project that many of the FAIR-IMPACT partners contributed to, FAIRsFAIR, and in other Horizon 2020 INFRAEOSC initiatives. One way that we as project partners will be fulfilling the FAIR-IMPACT remit is by building on the FAIR-enabling tools, resources and methods developed by FAIRsFAIR and other projects, extending their use in their original domains or adapting them for use in others.
The amount of FAIR-enabling resources is growing constantly, with more and more being devised by different initiatives all the time, not only in Europe, but across the globe. The question for researchers and those working in research support roles is becoming less about whether there is a specific resource available that can help them address the issues they are facing, but how to find relevant resources and to understand better how these can be applied in a practical capacity.
"How can I practically apply the FAIR Principles in my work? How do I know what is the right FAIR-enabling tool for me?"
In an effort to help people answer these questions and to navigate the complexities of finding the right resources for different use cases, we will be launching the first of three Open Calls for Support in April 2023. For this first Open Call, we will be offering two defined support actions designed to enhance the FAIRness of data, semantic artefacts and data-related services. I'll go into detail on the specifics of each action below, but essentially what we are offering is a support package for each, where successful applicants will receive expert guidance, tailored workshops and advice on how to implement a particular tool or set of resources. Participants will receive financial support to enable their participation and the chance to promote their work via a FAIR Implementation Story. If this sounds like it might be something you are interested in, please read on and find out more about the two support actions that we are offering.
Support action #1: FAIR-IMPACT FAIRness assessment challenge
Building on the successful 'FAIRness hackathon approach' that was used by the French FooSIN project, as well as on the FAIRsFAIR iterative FAIR pilot assessment and consultation experience, this support action will help a cohort of dataset providers or semantic artefact developers to self-assess the level of FAIRness of their resources (i.e., datasets, semantic artefacts, or any collections of those). This approach was originally trialled in the agricultural domain, with this support action looking to extend its application beyond this. Successful applicants will take part in a joint challenge during which they will be supported to employ a variety of assessment tools, including F-UJI, O'FAIRe and FOOPS, and methods such as the FAIR Data Maturity Model (FDMM) and the Ten simple rules for FAIR vocabularies. The support action will be led by Clement Jonquet, Sophie Aubin (both INRAE), Robert Huber (University of Bremen), Maria Poveda, Daniel Garijo (both Technical University of Madrid), Yann Le Franc (e-Science Data Factory), Alejandra Gonzalez-Beltran (UK Research and Innovation), and Herve L'Hours (UK Data Service).
The objective for all participants will be to maximise the FAIRness of their own resources as expressed by the scores obtained using these tools.
FAIR-IMPACT mentors will provide guidance on how to improve the FAIRness of their resources and support participants either directly on the tools/methodology available and with feedback and advice. We are encouraging applications from European data and metadata repository service providers (of international-, national-, and organisational-level services) and curators and/or developers of semantic artefacts and datasets, who have a good knowledge of the FAIR principles and willingness to embrace that approach. The duration of effort required, including attendance at mandatory virtual workshops and completing the assigned 'homework', will be approximately five days over a one month period in early autumn 2023.
Support action #2: Enabling FAIR Signposting and RO-Crate for content/metadata discovery and consumption
The second support action is aimed at those working either at European research repositories (either institutional, domain-specific, or generic repositories that house data, publications, software and other research outputs) or at other data, scholarly or research publishing platforms, and will provide a method to increase the discoverability of the metadata and content. It will do so using a combination of two approaches; RO-Crate and Signposting:
Research Object-Crate (RO-Crate) is a community effort to establish a lightweight approach to packaging research data with their metadata. It aims to make good practice in formal metadata description accessible and practical for use in a wider variety of situations, from an individual researcher working with a folder of data, to large data-intensive computational research environments.
Signposting is an approach to make the scholarly web more friendly to machines. It makes explicit the links between the resources that make up a research object (for example, appropriately typing links from a typical HTML landing page) and the downloadable resources that are available for the research object described by that landing page, including content resources and machine-readable metadata. A specific FAIR Signposting Profile will be employed in this support action, which has been designed by the community to provide a concrete recipe that repositories can follow to implement Signposting to increase the FAIRness of scholarly objects.
These two approaches are being used in combination as a pragmatic approach to making digital scholarly/research objects more FAIR; Signposting can be used to unambiguously make RO-Crates more discoverable, and the use of RO-Crate requires only one link to downloadable content resources, avoiding numerous ones when RO-Crate is not used.
For this support action, the support action providers (Stian Soiland-Reyes of University of Manchester, Herbert Van de Sompel of DANS, and Daniel Garijo of Technical University of Madrid) expect successful participants to have some knowledge - either as a developer or information architect - of HTTP, REST, and Web standards, and experience with JSON and schema.org. Similar to the first support action, the duration of effort required to take part in this one will be five days of effort over a one month period, again most likely in early autumn 2023.
…And now for some of the admin/housekeeping-related stuff
As with all open calls, there are limits and stipulations on who can apply. These are spelled out in more detail on the FAQs section of the Open Call for Support page on the FAIR-IMPACT website, but I'll highlight a few of the more significant points:
We welcome applications from both individuals and groups. However, applications made on behalf of a group must have a nominated lead participant. This person must reside and/or work in the European Union or an Associated Country for the duration of the grant. It is important to note here too that the funding provided is based on the number of days required to complete the action, rather than the number of people involved.
You are free to apply to one or both of the support actions, as well as to other Open Calls that will be launched by FAIR-IMPACT. However, we will employ a transparent selection process and aim to ensure that a diverse pool of applicants are selected for support.
Each support action will make clear the amount of financial support being made available to successful applicants, with these funds only to be used for supporting staff time to participate in the mandatory virtual workshops and to prepare the required homework assigned. The payment of funds will be made upon successful completion of the programme set out in your chosen support action (i.e., attending each of the scheduled workshops, completing any assignments, taking part in an exit interview which will form the basis of an Implementation Story).
Neither this Open Call for support nor any of the other FAIR-IMPACT open calls is open to individuals or groups based at any of the FAIR-IMPACT project partner organisations, nor to individuals who hold the status of FAIR Champions under FAIR-IMPACT.
Open Calls support webinar: 27 March 2023
There is more general information about the Open Call and the specifics of the application and selection process available on our website. If you think either of the support actions I've described here might be of benefit to you and your work, we wholeheartedly encourage you to sign up for the March 27 webinar, where you will have the chance to hear more about the open call and the two support actions. The support providers will be able to answer any questions you have ahead of the applications being opened in April (we will of course be making the webinar recording available to access after the event in case you cannot make it on the day).
FAIR-IMPACT will be launching additional financial and in-kind support offers over the next two years. You can register to be kept informed about the current and future open calls by completing the Expression of Interest webform at the bottom of the open call page.You can also get in touch with any questions or queries you have by dropping us a message at opencalls@fair-impact.eu.